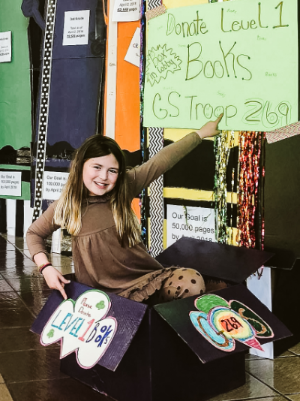 STAIR supporters have found creative ways to gather books in order to ensure that our students have the resources needed to develop a love of learning. These creative avenues include birthday parties, corporate service projects, Eagle Scout projects, Bar and Bat Mitzvahs, Girl Scout projects, and the list goes on. 

Steps to setting up a book drive:
Contact Liz Hixson at lhixson@stairbirmingham.org or
205-730-7700 ext. 3. She will provide you with any
fliers, posters or other materials needed.
 
Spread the word about your drive and set up a
collection process (this can be anything from a
designated bin at your church to a request for books
in lieu of gifts for a party).
 
Set up a time for us to come get your books,
or better yet, for you to come and deliver
them to one of our STAIR sites and see
the program in action!
Below is a list of needed books. For your convenience, there is also an Amazon wishlist set up for those who prefer online shopping.

Bob Books
Bob Books, Set 1: Beginning Readers by Bobby Lynn Maslen
Bob Books: First Stories by Lynn Maslen Kertell
Bob Books Set 2-Advancing Beginners by Bobby Lynn Maslen
Bob Books Sight Words: Kindergarten by Lynn Maslen Kertell
My First BOB Books: Pre-Reading Skills by Maslen Kertell
Bob Books Set 3- Word Families by Bobby Lynn Maslen
Bob Books: Rhyming Words by Lynn Maslen Kertell
Bob Books: Sight Words, 1st Grade by Lynn Maslen Kertell
Bob Books Set 4 - Complex Words by Bobby Lynn Maslen
My First BOB Books: Alphabet by Maslen Kertell
Bob Books Set 5- Long Vowels by Bobby Lynn Maslen
Ready to Read
Daniel Tiger Ready-to-Read Value Pack by Various Authors
Puppy Mudge Collector's Set by Cynthia Rylant, Suçie Stevenson
The Wonderful Weather Collector's Set: Rain; Snow; Wind; Clouds; Rainbow; Sun by Marion Dane Bauer, John Wallace 
Rookie Readers
Rookie Reader Boxed Set-Level a Boxed Set 1 by Dana Meachen Rau, Catherine Petrie 
I Can Read: My Very First
Learn to Read with Tug the Pup and Friends! Box Set 1 By Dr. Julie M. Wood
Learn to Read with Tug the Pup and Friends! Box Set 2 By Dr. Julie M. Wood
Learn to Read with Tug the Pup and Friends! Box Set 3 By Dr. Julie M. Wood
I Can Read: My First
Batman Classic: Batman Phonics Fun by Lucy Rosen
Fancy Nancy's Fantastic Phonics by Jane O'Connor
Biscuit Goes to School by Alyssa Satin Capucilli
Biscuit Goes Camping by Alyssa Satin Capucilli
Pete the Cat and the Tip-Top Tree House by James Dean
Little Critter Collector's Quintet: Critters Who Care, Going to the Firehouse, This Is My Town, Going to the Sea Park, To the Rescue by Mercer Mayer
Snowball Soup by Mercer Mayer
Pete the Cat and the Lost Tooth by James Dean
Digger the Dinosaur by Rebecca Dotlich
Loose Tooth by Lola M. Schaefer
Axel the Truck: Beach Race by J. D. Riley
Biscuit's Neighborhood: 5 Fun-Filled Stories in 1 Box! by Alyssa Satin Capucilli
Mia and the Daisy Dance by Robin Farley
Mittens by Lola M. Schaefer
Pete the Cat: Scuba-Cat by James Dean
Pete the Cat's Super Cool Reading Collection by James Dean
Pete the Cat Phonics Box: Includes 12 Mini-Books Featuring Short and Long Vowel Sounds by James Dean
Pinkalicious Phonics Box Set by Victoria Kann
Sports Books
Sometimes You Win--Sometimes You Learn for Kids by John Maxwell
Stephen Curry: The Children's Book: The Boy Who Never Gave Up by Anthony Curcio
Dream Big: Michael Jordan and the Pursuit of Excellence by Deloris Jordan
Salt in His Shoes: Michael Jordan in Pursuit of a Dream by Deloris Jordan and Roslyn Jordan
LeBron James: The Children's Book: The Boy Who Became King by Anthony Curcio
I Can Read: Level 1
Morris Goes to School by B. Wiseman
Splat the Cat: I Scream for Ice Cream by Rob Scotton
The Fat Cat Sat on the Mat by Nurit Karlin
Clark the Shark: Lost and Found by Bruce Hale
May I Please Have a Cookie? by Jennifer Morris
Pinkalicious and the Cupcake Calamity  by Victoria Kann,
The Berenstain Bears: We Love Soccer! by Mike Berenstain
Dinosaur Time by Peggy Parish
Charlie the Ranch Dog: Charlie's Snow Day by Ree Drummond,
Mac and Cheese by Sarah Weeks
Fancy Nancy: Too Many Tutus by Jane O'Connor
Super Friends: Flying High by Nick Eliopulos
Pinkalicious: Fairy House by Victoria Kann
Pete the Cat and the Cool Caterpillar by James Dean
The Berenstain Bears: We Love Soccer! by Mike Berenstain
Diary of a Worm: Teacher's Pet by Lori Haskins Houran
Fancy Nancy: Too Many Tutus by Jane O'Connor, Robin Preiss Glasser 
Other Books
Bigmama's by Donald Crews
Brown Bear, Brown Bear, What Do You See? by Bill Martin Jr. and Eric Carle
Freight Train by Donald Crews
How to Deal with and Care for Your Annoying Little Brotherby Nia Mya Reese
I Am Enough by Grace Byers
I Like Myself! by Karen Beaumont
I Love My Hair by Natasha Anastasia Tarpley
Look What Brown Can Do by T. Marie Harris
My America by Jan Spivey Gilchrist
Sam and the Tigers by Julius Lester
Shortcut by Donald Crews
Ten Apples Up on Top by Dr. Seuss
The Berenstain Bears and the Golden Rule (Berenstain Bears/Living Lights) by Mike Berenstain, Stan Berenstain 
The Very Hungry Caterpillar by Eric Carle
The Very Quiet Cricket Board Book by Eric Carle
The Word Collector by Peter Reynolds