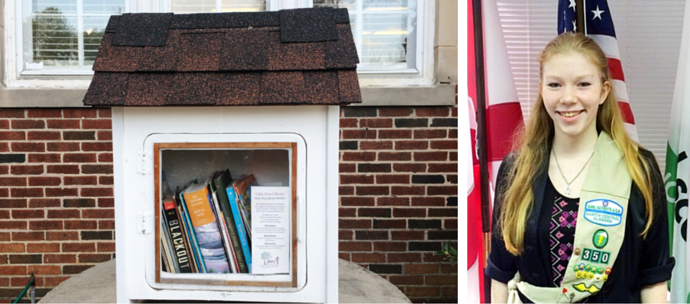 Lilly Sharp, a senior at Altamont, earned the Girl Scout Gold Award. Sharp earned her Gold Award for her project, "Lilly's Literacy." Sharp discovered that many children in her community didn't have books at home, and this seriously affected their reading skills. Sharp connected with her local library and with S.T.A.I.R. (Start The Adventure In Reading) Birmingham to see how she could take action on the issue. Sharp gave books to over 100 children in the Avondale area, and began a successful trading program, "The Free Little Library," at Avondale United Methodist Church, that will last for years.
"A large percentage of kids in my area do not have money to go and buy books, and their parents are concerned with library fines, which keeps them from having reading materials in the home, especially in the summer," Sharp said. "My Free Little Library set up a trading network that will allow kids to trade books and create their own personal libraries."
Sharp has also earned her Girl Scout Bronze and Silver Awards, and she has served as a volunteer at STAIR of Birmingham, the Birmingham Zoo, the Ronald McDonald House and the Avondale Public Library.
"Reading, no matter if it's fiction or non-fiction, opens up a child's world, it exposes them to new vocabulary, it strengthens their imaginations and, most importantly, reading is the key to learning," Sharp said.
"By earning the Girl Scout Gold Award," said Karen Peterlin, chief executive officer of the Girl Scouts of North-Central Alabama, "Lilly has become a community leader. Her accomplishments reflect leadership and citizenship skills that set her apart."
About Girl Scout Gold Award
Since 1916, Girl Scouts have been making meaningful, sustainable change in their communities and around the world. The Girl Scout Gold Award, the highest honor a Girl Scout can earn, acknowledges the power behind each recipient's dedication to not only empowering and bettering herself, but also to making the world a better place for others. These young women are courageous leaders and visionary change makers. They are our future, and it looks bright! To learn more about the Girl Scout Gold Award, visit girlscoutsnca.org.
The girl who goes for the Gold embraces challenges, achieves excellence, and works diligently to make the world a better place, in her own unique way. Her leadership, vision, and boundless energy is an inspiration to all Girl Scouts. Each girl earning her Gold Award demonstrates excellence through a leadership project totaling more than 65 hours. Girls who earn their Gold Award are also recognized by the President of the United States, the U.S. Congress, the U.S. Armed Services, state legislatures, colleges and universities for admission and scholarship opportunities, and the American Legion. Some universities and colleges offer scholarships unique to Gold Award recipients, and girls who enlist in the U.S. Armed Forces may receive advanced rank in recognition of their achievements.