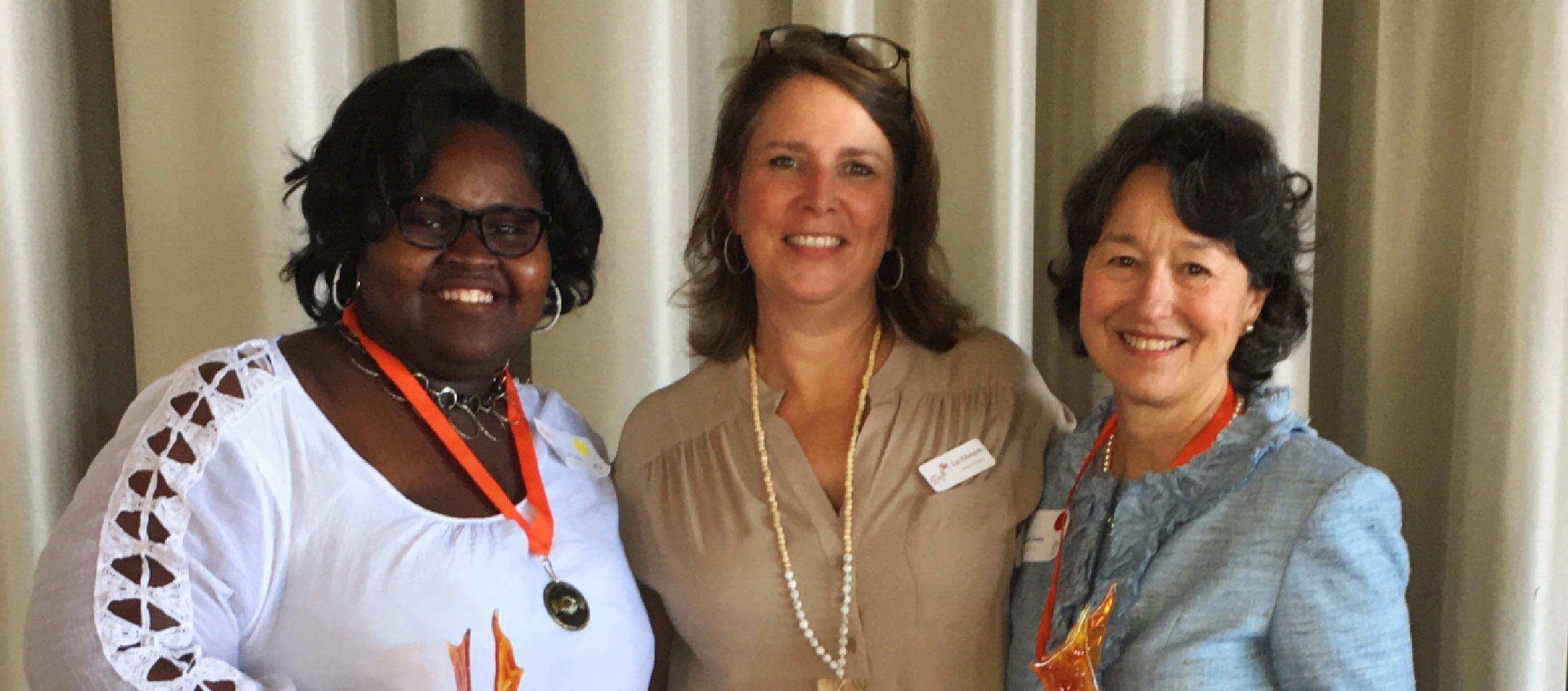 The Ignite awards were presented by Hands on Birmingham (HOB). An affiliate of United Way, HOB envisioned Ignite as a gallery to pay tribute to those dedicated volunteers who have made significant contributions in service and leadership throughout the Birmingham area.
"The awards will focus on volunteers who set an example of what can be done in and for our communities, and will recognize the unsung volunteers - individual, company, government, nonprofit, small business, student, and faith-based volunteers - need to be honored for inspiring others to contribute and help bring about positive social change throughout Central Alabama," said Benga Harrison, Executive Director of HOB.
Two STAIR volunteers received awards, recognizing their service and dedication to STAIR and the Birmingham community.
Anna James (right), a dedicated member of Independent Presbyterian Church, served as the first Executive Director of STAIR. Anna was a part of STAIR from 2005, when it became a 501(c)(3), until her retirement at the end of 2014. Anna strived to develop a strong, comprehensive model for children's literacy improvement in our community. Her enthusiasm for the STAIR program and her commitment to Birmingham City School second graders fueled the growth of the program from one site serving two schools to nine sites over the course of her tenure. The model which Anna created has allowed the program to continue to grow; during the 2016-17 school year STAIR will partner with 12 Birmingham city schools and expects to serve over 200 second graders. Anna's dedication and service to the children of Birmingham allowed hundreds of students reading below grade level to catch up to their peers and improve their self-esteem.
Anna felt it was important for families to be involved in the success of their children and developed a family dinner program where parents, caregivers, students and tutors have the opportunity to come together, share a meal and celebrate the hard work of the STAIR student. Anna created presentations for the parents focused on ways they could support their student's literacy needs and had the Birmingham Zoo come and entertain STAIR students and siblings while she was talking to the parents. Family dinners provide an opportunity for parents to hear great things about their students and for tutors to learn more about the families of the students that they spend one afternoon a week with. Anna continues to be involved in STAIR by serving as a tutor at one of our STAIR sites.
She is always eager to encourage her student to work hard and maximize her time at STAIR each week. Anna makes sure that STAIR students have dreams so that they can become life-long learners. Anna know that dreams are important for students, and like the Langston Hughes poem Dreams says, she wants STAIR students to "Hold fast to dreams, for if dreams die, life is a broken-winged bird that cannot fly."
Robyn (left) isn't your typical student. She first became involved with STAIR in the fall of 2015. After learning about STAIR at a Birmingham Education Network Night, she was sold, and has been an avid advocate of the program. In one month, Robyn single handedly recruited 10 Ramsay High School SGA students to tutor at our new Tuggle site, providing half the volunteers that STAIR needed. The site wouldn't have happened without her.
Robyn created a special bond with her student, Giselle, and became more than just a tutor. She became a big sister, investing in Giselle's academic achievement, and helping her blossom into a more confident girl who now feels like she can do anything. If you'd like to see their relationship in action, our agency video highlights Robyn and Gieselle starting at 3:06: http://stairbirmingham.org/what-we-do/stair-video.html. Robyn certainly had an impact on more than just Gieselle's reading scores.
On top of serving as SGA President, Robyn graduated in the top 10% of her class, accumulated over 400 hours of volunteer service, maintained higher than a 4.0 GPA and graduated from Ramsay High School in 2016. Now enrolled in Birmingham Southern, Robyn continues to tutor at our South Hampton site and recruit friends to tutor alongside of her.
Whether it's a second grade student, a peer, or a supervisor; everyone who comes into contact with Robyn recognizes that she isn't your typical 18 year old. She works hard. She helps others. She makes Birmingham a better place to live.